Replace notepad on your windows XP or vista with Win32Pad. It is a feature rich programmers editor and is an excellent replacement for the default windows notepad.
Win32Pad is a free software and is light weight, but at the same time it is very powerful and a fast text editor.The main objective behind the development of win32pad is to provide all the main functionalities that were missing in notepad, to make it a better text editor (programmers editor) without sacrificing file size, performance, efficiency and the best user experience.
Win32Pad also supports URLs, by automatically highlighting them, and letting you click on them to launch your default browser.Here are some of the features of win32pad.
Win32pad (enhanced note pad) features:
Unlike in notepad, file size is limited to the available memory (not 64k)
You can view a recent Files list
32k executable size (C & win32 api)
It supports Auto-indent & Tab Size (2..8)
You can now show or hide Standard toolbar and statusbar
Supports WIN (default) and UNIX file formats (read/write)
Displays Line Numbers
Shows file change notification
"Smart" Home
It can support ".LOG" files
You can do Find/Replace
You can directly jump to a line using Goto Line # (Under Search Menu)
Revert feature. (Re-read the file from disk)
It has Full Intellimouse support.(Tested on Win95/98/NT4.0/2000)
It also Shows current location, # of lines and the current editing mode (Insert/Overwrite)
You can easily Open files by dropping them from Windows Explorer
You can even minimize Win32Pad to the System Tray
Insert Time/Date F5, Another File
You can also view File Properties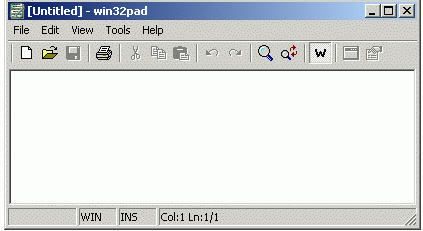 Aren't you excited? All these are packed within an amazingly small size of 71 kb (inclusive of the installer). Win32pad is also available in French and Russian.Free download win32pad and experience an enhanced note pad on your windows XP/vista.
People who read this also viewed these helpful relevant videos
View ratings
Rate this article
Rate this article
Article ratings
Current average ratings.