Audacity team had recently released a beta version of Audacity.Audacity is an open source,free sound editor and recorder for cross platforms including the popular windows,MAC OS X and GNU/Linux operating systems.The beta release is version 1.3.4 and this is only for Windows and Linux/unix.The latest stable release of audacity for all OS is version 1.2.6.
New features of audacity 1.3.4(beta)
According to audacity team,the beta release of audacity 1.3.4 has the following new features/enhancements:
New Welcome Screen with introduction to Audacity.
New 'Mix and Render to New Track' command.
Support for VAMP audio analysis plug-ins.
More keyboard shortcuts and navigation.
Reworked solo/mute handling.
New preference: Select all audio in project, if none selected (on by default).
New preference: Beep on completion of longer activities.
Envelopes: Many fixes when copying, pasting, or repeating.
Many translation updates.
Metadata editor added for OGG, FLAC and WAV/AIFF exports. Metadata import improved.
Muted tracks are no longer audible in the exported mix.
Improvements to latency correction.
However audacity team recommends the usage of audacity 1.3.4 (beta), only for advanced users of audacity.Others can still use the stable release of audacity 1.2.6.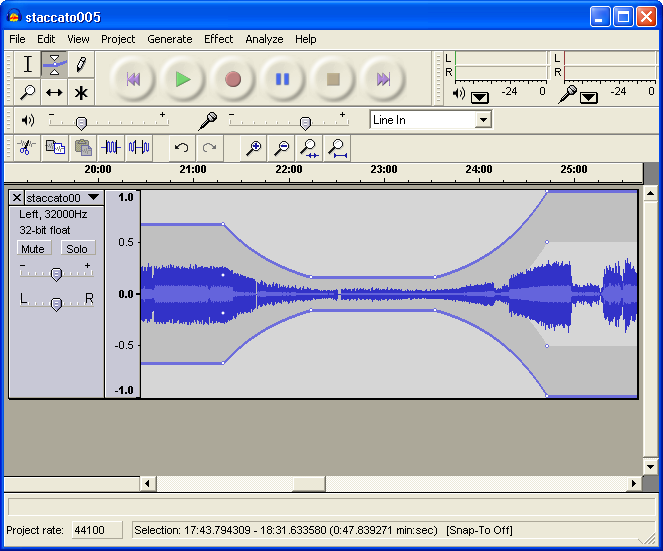 Basic features of audacity
The basic features of audacity are:
Record live audio.
Convert tapes and records into digital recordings or CDs.
Edit Ogg Vorbis, MP3, and WAV sound files.
Cut, copy, splice, and mix sounds together.
Change the speed or pitch of a recording.
Check here for the complete list of standard features of audacity