Manage your blackberry device on windows vista and XP with BlackBerry Master Control Program (MCP). This is a free but powerful software designed for moderate to advanced users.
This program lets you perform complete BlackBerry device management on windows, including the ability to download and install BlackBerry Device Drivers, Operating Systems and third-party tools, quickly and easily from a single graphical user interface.However MCP does not help you in performing backup or synchronization and you can continue to use the free windows blackberry desktop manager.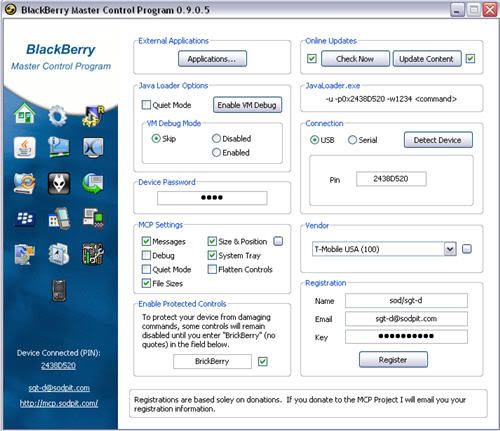 Blackberry MCP can perform all possible combinations of Java Loader commands and options via an intuitive yet easy to use 32-bit Windows GUI (graphical user interface).You can perform the following and more.
Windows BlackBerry Master Control Program (MCP) functionalities:
Easily load/save/erase any module you want
Take screenshots of your blackberry device
Turn the radio on or off
synchronize the time on your your blackberry to your PC
Reset to factory settings (remove IT policies)
Perform a handheld wipe and more
BlackBerry Master Control Program (MCP) is available as both portable and standalone versions.Free download BlackBerry Master Control Program (MCP) and get complete control of your blackberry on windows XP and Vista.