Bookmark links/websites in firefox, with the bookmark manager – "Read it later".This firefox extension acts as a staging area, for website or link bookmarks, and helps in eliminating clutter, with bookmarking sites of one-time interest.
When you browse, you may come across an interesting link, but you may not have time to read it due to an urgent meeting at office or some other work to attend to.In such situations, you tend to either bookmark that link or send an email of that link to self, to read it later at home.But this will be cumbersome and you may never open that mail.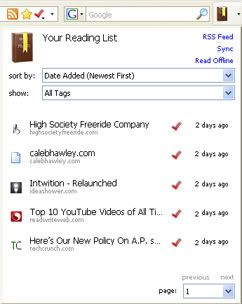 "Read it later" has an accompanying web service that lets you access your reading list from anywhere and sync it between multiple machines. This firefox extension, automatically creates an account for you using a random user name and password, and all you have to do is to simply enable the synchronization feature.
How to bookmark link in firefox?
"Read it later" has an one-click bookmark star on the Firefox location bar.
when you come across an interesting link or website, simply click the 'Read Later' button.
Later when you find free time, click "Reading List" and it'll automatically pull up something for you to read.
When you are finished, click "Mark it As Read" and it will be removed from your list.
This firefox plugin is tightly integrated with firefox 3 and it lets you use the browser's tagging system, to tag the items in your Reading List.
You can even click "Read offline", to download the pages from the bookmark list.This is an useful option, that lets you read the pages when you travel (when you don't have internet access).You can also manage or view the reading list in any browser including Firefox, IE or Safari and on any device, including iphone. The Read It Later List also has a mobile-friendly layout. Check out more at readitlaterlist.com
Enjoy reading, with this friendly link bookmarking firefox extension.