Change wallpapers in windows vista, XP 2000 and more with Wally.This is a free wallpaper changer, that lets you automatically change wallpapers on windows desktops.
Earlier we covered Dazzo's wallpaper changer to rotate wallpapers on vista and XP.It however worked only with wallpapers saved on your computer.
Wally, on the other hand, rotates wallpapers by grabbing images from several sources.This includes selected folders and files on the local hard drive of your PC, and also several online sources including Flickr, Yahoo!, Panoramio and more. This free wallpaper changer also gives you the possibility to save the downloaded images on to your local drive.
But Wally doesn't give you the control to choose the wallpapers, as the whole process is automated.However you can control it to some extent by having only wallpapers you desire on the chosen folders.The software does provide you with a few configuration settings, with which you can filter the images that are going to be chosen from the online sources. But since there is no preview option available with Wally, you don't actually know what image has been chosen until it's finally displayed on the desktop.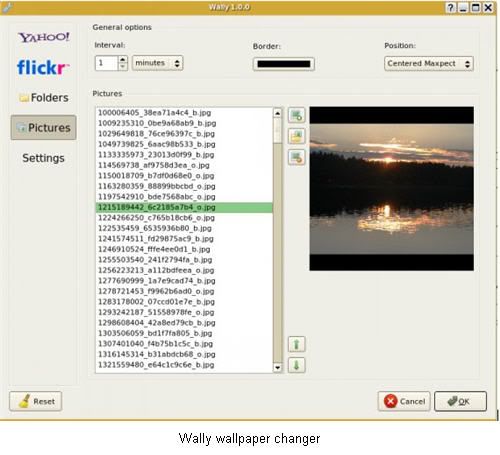 Offcourse the lack of preview adds an element of surprise but not all users may like it.Wally change wallpapers every day and it can use images in BMP, GIF, ICO, JPEG, JPG, MNG, PBM, PGM, PNG, PPM, TIF, TIFF, XBM and XPM formats as wallpapers.
Free download wally and change wallpapers on windows vista and XP.