Pan and Change windows desktop into a 360 degree wide desktop. 360desktop is an amazing free tool that gives a fresh lease of life to your windows vista/XP desktops.You could not only get more desktop space, but you could also decorate it with amazing wallpapers, videos and more.
Features of 360 degree desktop for windows:
Get more desktop space by panning your desktop through 360°
slide between all your open applications and windows .
grab any web widget, and turn it into a widget for your desktop
clip any part of any web page that you like, and use it anytime
decorate your desktop with videos, slide-shows, music, games, wallpapers and whatever you like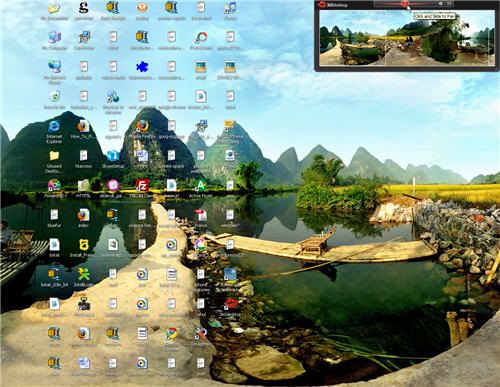 360desktop has an online platform, that lets you choose from an amazing collection of interactive 360° wallpaper or create your own 360 degree photo panoramas and photo collages.With advanced publisher Mode, the 360 is a multimedia mash-up, with web content (photos, web pages, animations & more), embedded to the user's desktop.You are free to create your own 360 desktops, by including your own brand and logos and promote it as well, but you are not allowed to include any third party advertising.
360desktop intend to generate revenue by charging their brand partners who will create the content, for you to download free. However you can always determine, whether to view the branded/sponsored 360's, as you will be informed, before you download such content. 360desktop currently works on windows vista/XP. Mac and Linux editions can be expected soon.
change windows into a 360 degree desktop (video):
Check out my 360 degree wide windows desktop with lively desktop wallpapers.
Free download the 360desktop viewer , change windows desktop into a 360 degree wide space and decorate it with stunning desktop wallpapers, videos and more. You cannot get more space than that, to decorate and organize your desktop.
You can also find out how to hide windows or programs on desktop.