Convert PDF to text with Ease PDF to Text extractor.This is a free PDF to text converter, to extract text from Adobe PDF files.
Earlier we covered Graphics2PDF to convert any image to PDF including JPEG to PDF or Tiff to PDF.We then told you about a free add-in from Microsoft to convert doc to PDF.
We also covered another free tool called "Some PDF to word converter", to convert PDF to word and Adolix split and merge to combine and split pdf files.
Here we tell you about yet another free tool to convert PDF to Text.
How to convert PDF to text?
Ease PDF to text extractor can convert PDF to text in three simple steps.
Browse and add all the PDF files from which you want to extract text. Note that this utility supports batch conversion of PDF to text documents.
Specify the destination folder for the output.
Then, click "Convert" to start the conversion.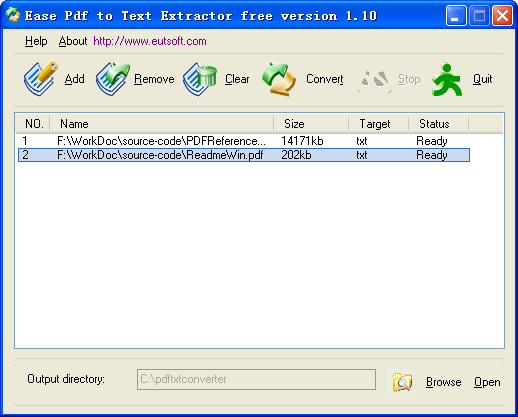 Once completed, you may find all the extracted text files in the destination folder.
Ease PDF to text extractor can work on Windows vista or window XP and is small in size. Free download Ease PDF to text extractor and convert pdf to text.