Watch your favourite movies on your symbian mobile devices or windows mobile, with this free DivX player – DivX player mobile 0.91.
DivX is the most popular digital video format and now DivX Player Mobile, lets you enjoy all your favourite movies on the move. With DivX Player for symbian mobile phones and windows mobile, you can watch DivX, AVI or MPEG movies in the player window or in full-screen mode.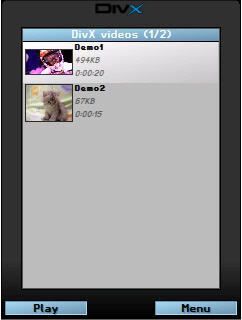 You have complete control on this excellent movie player for mobile phones (symbian OS and windows mobile) with ability to play, Pause, Stop, Fast Forward and Rewind, as well as control the volume easily via buttons or the stylus. The player can also automatically scan the internal memory or expansion cards of symbian phones, for compatible movies. You can organize your media, sorting movies by name, file size, duration, and date last seen with this free media player.You are also presented with a range of options to tweak the viewing experience including brightness, contrast, color saturation and sound tracks.
Free download DivX Mobile Player and enjoy DivX movies on symbian phones and windows mobile 5 and 6.