Free wordpress themes can be easily generated by noobs with WordPress theme generator.WordPress theme generator is a nifty tool that lets any one to generate wordpress themes.
You neither need to know any PHP programming nor any CSS for generating beautiful free wordpress themes.All it takes is only 10-15 minutes to generate a decent theme.This tool is perfect for creating minimalistic wordpress themes.

Wordpress theme generator has quite a lot of options including color pickers and support for tags.The options are pretty easy to use and you just need to play around with the tool for a few minutes, to learn them. The tool puts emphasis on creativity rather than PHP/CSS programming to create impressive wordpress themes for free.
I created one minimalistic wordpress theme in under 5 minutes and you can have a look at the free wordpress theme here and
here.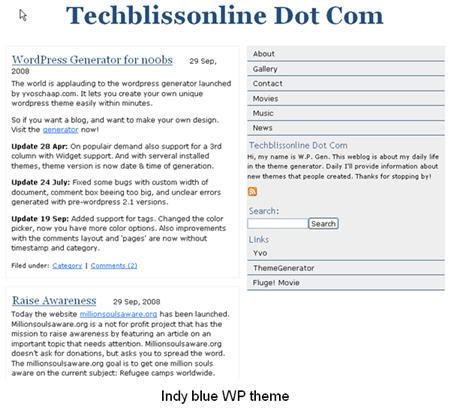 WordPress theme generator generates a tinyurl to share the wordpress theme and a download link too. For eg: you can download the above minimalistic theme – Indy Blue, that I created, by clicking "Save" at the bottom of the page here.You will be presented with the download link and a tinyurl to share it with your friends and family.
You can also download the free minimalistic wordpress theme – indy blue created with free wordpress theme generator.