Find and download music and mp3 songs from the internet (web) using MusicTuner 1.3.This is a free tool, that simplifies the task of finding mp3 songs or music on the web.
Earlier we covered a few tips to download songs and music via google search.They required you to learn a few google search tricks to discover downloadable songs and music of your favourite artist or band.While those tips helped you gain access to open indexes of music from various websites, MusicTuner makes the task of finding mp3 songs and music, over the internet, even simpler.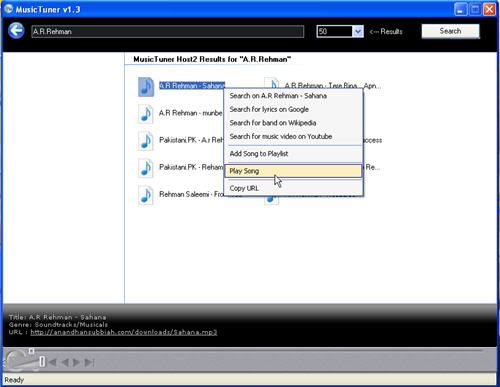 Just type the keywords (song title or band or artist name) and click "Search". MusicTuner 1.3 will find the mp3 songs/music and list them in a list view.What is even better with this cool application is the ability to play the downloaded mp3 songs from within the tool.You can even save the downloaded mp3 songs/music into a playlist.And MusicTuner , also makes it easy to find the related music video, if any, on youtube or to find the lyrics of the song or even the music band.
Free download MusicTuner installer, install the application and enjoy downloading MP3 songs and music over the internet.