Download mp3 songs and music with Music MP3 Get Basic.The basic version of this software is a free application to search and download music files from social websites.
Earlier we covered another excellent free tool called MusicTuner, to find and download mp3 songs and music from the internet.
Music MP3 Get Basic is a tool to search for free music from YouTube and almost all social music sites such as "IMEEM", "Last.fm", etc.You can search for mp3 songs or music with either the title or artist or album name.
On hitting "Search", the tool lists mp3 songs that match the keywords. However, if the keyword you entered doesn't meet any ".mp3" file in the entire network of sites that Music MP3 Get connects to, you won't be able to find it using this free tool.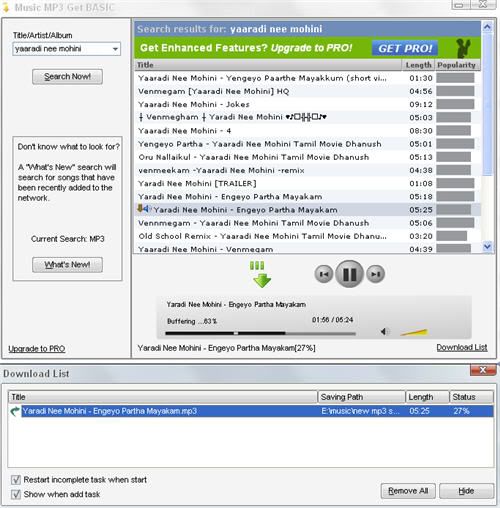 The software not only allows you to download files, but also there is a built in media Player to try the music and songs.
If you choose to download multiple songs, the tool downloads songs one by one. If you have selected more than one file to download simultaneously, then any additional files you choose to download will automatically remain in the "In Queue" status until the previous task is completed. If the current task's status keeps "In Queue" for a long period, remove the current task and try another search result.
If you exit the program, any downloads that were in progress will terminate at this time. However, these downloads will restart the next time you start the program, if you have checked the check-box of "Restart incomplete task when start" in the "Download List".
This tool works on windows vista, XP and 2000. Free download Music MP3 Get and enjoy listening to your favorite songs and music.