DVD Decrypter is a DVD ripping tool available as a free download and it is one of the best tools on the internet.DVD Decrypter can rip any encrypted DVD to your hard drive for further processing. DVD Decrypter removes region code protection, Content Scrambling System (CSS), user operation prohibition and macro vision.
How to decrypt DVD using DVD Decrypter?
Free download DVD Decrypter.
DVD Decrypter can be used to either
rip all files by pressing the key F or
rip DVD files in ISO mode by pressing the key R
Open DVD Decrypter, choose File => Mode => File Mode and press CTRL+A to select all the files. Then Press F to rip all the files.
Open DVD Decrypter and choose File –> Mode –> ISO –> READ or press R to rip the DVD as an ISO image. If the DVD shows the number of layers as 1, then you can simply rip the DVD as an ISO image and burn the ISO image with DVD Decrypter. However, most are dual-layered DVDs.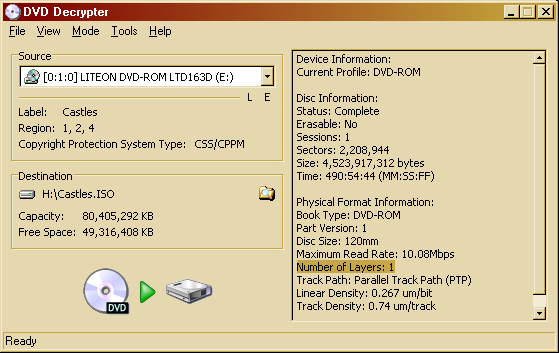 You may then mount the ripped ISO image. Free Download Daemon Tools 3.47 or use DVDFab Virtual Drive to mount ISO image file.
To mount using Daemon, right click on daemon tools, choose VIRTUAL CD/DVD-ROM –> Device 0: –> Mount Image and locate the ripped ISO file. The ISO file will show as Generic STEALTH DVD.
Many DVD related programs require ASPI driver. Unzip the ASPI driver and double-click INSTASPI.BAT to install it.
Free Download DVD43 3.7.0 for free on-the-fly decryption:
Download DVD43 3.7.0 and install. After installing DVD43, you will see a little yellow smiley happy face in your tray icon bar.

It shows 0/6 DVD drives. One DVD-ROM drive, one DVD burner and four virtual DVD drives with daemon tools.

Once you put an encrypted DVD in a DVD-ROM drive, the yellow icon will change to green. Then you will be able to use any commercial DVD trans-coding program on the DVD, without the need to rip it first to the hard drive.This will save you a lot of time.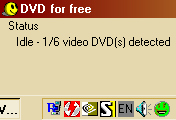 Some users may not like DVD43 to start up at boot time. To prevent it from starting up at boot time, download dvd43startuponoff.zip, which contains two registry entries namely dvd43disableonstartup.reg and dvd43enableonstartup.reg.Run these registry entries after extracting the zip file to a folder.
RCE (Regional Coding Enhancement) Protection removal:
DVD regions:
Region 1 – 1: U.S., Canada, U.S. Territories
Region 2 – Japan, Europe, South Africa, and Middle East (including Egypt)
Region 3 – Southeast Asia and East Asia (including Hong Kong)
Region 4 – Australia, New Zealand, Pacific Islands, Central America, Mexico, South America, and the Caribbean
Region 5 – Eastern Europe (Former Soviet Union), Indian subcontinent, Africa, North Korea, and Mongolia
Region 6 – Peoples Republic of China
Region 7 – Reserved
Region 8 – Special international venues (airplanes, cruise ships, etc.)
The easiest method to remove RCE protection is to rip with DVD Decrypter.
Open DVD Decrypter –> Tools –> Settings –> General
RCE Protection Region sets the region to the one you live in. Example: if you reside in USA it is set to 1.
Verify that Remove IFO/BUP RCE Protection is checked

IFO Region Free – Download:
If you ripped or processed directly from DVDFAB or DVDShrink Full-Disk mode you may need to remove RCE protection.IFO Region Free is a small freeware utility by Fengtao that may help you with this task. Download IFORegionFree01.zip [13KB]
Method 1:
Follow the steps 1, 2 and 3 detailed in the image below. Select your VIDEO_TS Folder and patch it.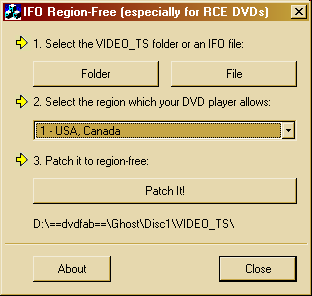 Method 2 – Use DVD Decrypter
Open DVD Decrypter–>Tools–>IFO–>Region–>Information.
Select a VIDEO_TS.IFO file to verify it has RCE protection
Then select Tools–>IFO–>Region Patch–>Region Free
Select all IFO files in the folder by holding down CTRL key and clicking on each of them – "VTS_04_0.IFO", "VTS_01_0.IFO", "VTS_02_0.IFO", "VTS_03_0.IFO" and "VIDEO_TS.IFO"