Find windows XP and vista product keys and also retrieve product keys of Office 2007 and more with Magical Jelly Bean Key finder.You can also retrieve product keys for many other windows applications using a community-updated configuration file.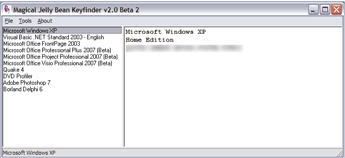 Magical Jelly Bean Key finder is a free open source tool that reads the registry and extracts the key for vista, XP, office 2007 and many other windows applications.This is a very handy tool, when you have misplaced or lost your product keys
The tool does not require any installation. Just download, unzip and run the executable file. You will get the product keys of your windows OS and other software like Office 2007.
Other Free Product Key Finders
Check out "license crawler" to get product keys and Serial numbers of software installed on your computer.
Try "rockXP" to find or change windows xp product key and "Windows Vista CD key finder" to find or change vista product key