Find and delete duplicate files with the duplicate finder – CloneSpy.If you download a lot of files from internet, like me, then you will quite often find duplicate files on your PC/computer.Even otherwise, you might find several duplicate files in different folders/locations.
Duplicate files will not only occupy unnecessary space but, with passage of time, they will also slow down your PC/computer.CloneSpy helps in finding and removing all duplicate files.
CloneSpy lets you find and remove duplicate files that have exactly the same contents irrespective of their name, date, time and location. You can also find files that are not identical, but have the same file names.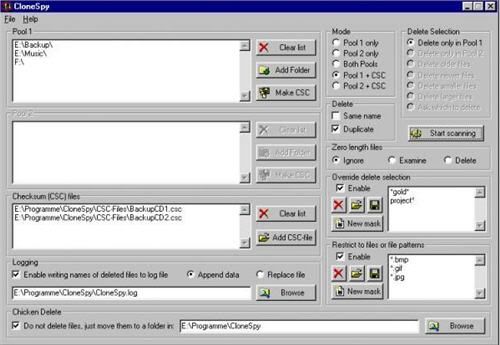 You can either delete/remove duplicate files or move the redundant files to a specific folder.You can also export a list of all duplicate files without removing any of them.What is even better with CloneSpy is the fact that you can build checksum files from files on CDs (or even on hard drives, etc.) and use them to check whether these files already exist on your system.
However clonespy cannot detect "similar" images or music files i.e. files with different names but identical content (images/music).Also clonespy does not have a friendly interface.It is all the more important to go through the help file, before you get started. Just press after starting the program to view the Windows help file.
Free download the duplicate finder cloneSpy, and find and remove duplicate files on your PC/computer.