Do you find the need to copy your protected DVD to your PC or any media for back up? Get DVD43, a free DVD Decrypter, to decrypt DVD on the fly. If you have the rights to copy the DVD for your own personal use, then you can use DVD43 to decrypt the DVD and then copy it to your PC or any other media.
DVD43 can work on any protected DVD and transform it into unencrypted DVD.It doesn't copy DVD to your hard disk by itself, but it works with another software to copy or rip DVD. It assists the copy process of such software by decrypting the DVD. Thus, if you want to clone a DVD, you could use DVD43 with an utility like DVDShrink to rip, shrink and copy it to another DVD.
DVD43 is compatible with the latest versions of windows including windows 7, Vista and XP. Installation is simple. Free download DVD43 from here. Run the setup file to install DVD43. After installation you may find a happy face icon on your windows task bar.

Whenever you insert any DVD into your DVD drive, DVD43 will run in the background to automatically detect and decrypt the DVD. Once it completes the DVD decryption, the smiley face on the windows task bar turns green to indicate success.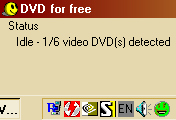 You can then use any DVD copy utility like DVDshrink to copy the decrypted DVD to your PC or use utilities like ImgBurn to shrink and copy it to another media.
You can also try the free DVD Decrypter to rip DVD.
DVD43 works well on most types of copy protection and you don't have to do anything other than installing DVD43. Enjoy the free DVD Decrypter.