Get stacks similar to Apple's Mac OS X, on your windows desktop or taskbar with StandaloneStack.This is a free application that gives the cool stacks in Mac OSX Leopard, to your PC running windows vista or XP.
Earlier we covered Mac OSX transformation pack for vista and now you can even get the OSX like stacks in windows vista.
How to install StandaloneStack?
Free download StandaloneStack zip
unzip the files in a directory For eg: d:\standalonestack
Right click on StandaloneStack.exe and Create shortcut
Right click on the created shortcut and choose Properties
In the target text field, go to the end of the target line, add a space and then add the name of the stack.For example add "Desktop" (without quotes)
Double-click on the shortcut, and in the stack docklet properties, choose the "stacked" folder you want. Click OK.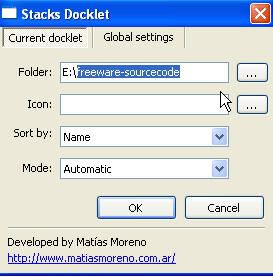 Now, double-click on the shortcut to show the stack.you can then move the shortcut to the taskbar toolbar or to the desktop
If you want to change the properties of the stack, hold SHIFT or CTRL key and double-click on the shortcut.
Shortcut parameters :
<stack_name> : the name of the stack, each stack must have a different name.
/notaskbar : the stack will not follow the taskbar orientation.
/top or /bottom or /left or /right : force the orientation of the stack
The stacks are a handy way to keep your most often used folders on the taskbar or desktop.There is even a choice between the tall stacks (Fan), and transluscent panel (Grid), as you find in Leopard on the Mac OSX. Enjoy Mac OSX like stacks on windows Vista and XP with StandaloneStack.