Do you get frequent flickers on you PC monitor? If you are one who works long hours seated before your computer, then you are risking your eyes.The pain that you might develop in your eyes may not be entirely due to the long hours that you spend in front of a monitor.It could be your CRT monitor's constant flickering which is tiring down your eye muscles. Besides taking frequent breaks from constantly viewing your monitor and focusing on distant objects every half an hour, to avoid sore eyes, here is what you can do to stop the flickering!
Tip 1:
1.) Right click on your desktop.
2.) Select Properties.
3.) Click on the Settings tab.
4.) Click on the Advanced button.
5.) Open up the Monitor tab.
6.) Manually increase the Screen Refresh Rate, which is measured in Hertz. It looks like this: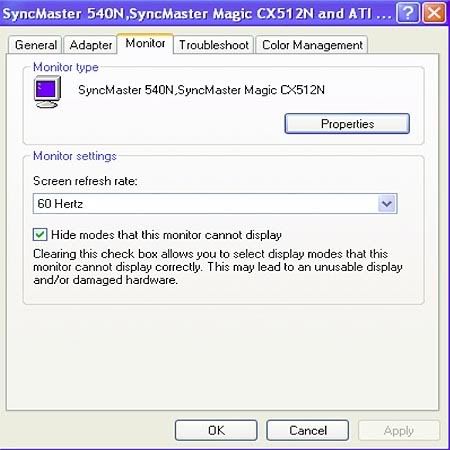 Tip 2:
Follow the above procedure, except steps 5 & 6.Instead click Advanced –> Troubleshoot (Tab).Move the slider and you will notice that the flickering dies out when you are at the fourth notch from the left. Click Apply. If you disable the Hardware Acceleration for your XP display properties (Control Panel, Display, Settings, Advanced, Troubleshoot) or at least lower it to the second bar from the left, you will really notice a significant improvement in the behavior of some of your programs.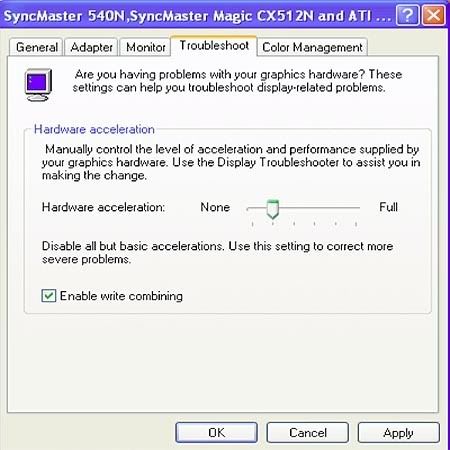 Tip 3:
Do you get a screen flicker when you run AVG anti-virus and does it stop when you pause scanning with AVG anti-virus? Then schedule your scan to run early morning or in the midnight, when you would not be using your PC, so that there is no conflict.This holds good for any programs you use that require a scan of your PC.
Tip 5:
Is there a flicker only when you're printing something out? Then you may need to change your printer spool characteristics. Change from Spool to Direct or direct to Spool. If you're printing to a USB device, unplug the device and try again.
If none of the above tips work then you probably have a faulty monitor. You can find this out by hooking your monitor to another computer and see if the flicker remains. Or, hook up another monitor to your PC and see if that flickers.
If you have a laptop and the screen flickers, it could be because of the wireless adapter. Hope the above tips help to troubleshoot the flicker on your monitor.