Hydrabrowser is available for those who like a feature rich browser. Hydrabrowser has a cool interface too. Hydrabrowser is available for free download and note that you are actually donating to charities by making a free download.Hydrabrowser may not be a lightweight browser like firefox but it has some great features and office 2007 looks.
Hydrabrowser has like any modern browser, Tabbed toolbar navigation and also displays a separate set of menu options and icons for Tools, Edit, Favorites & Sidebar, Security & Settings, Tools, and RSS.it has a web gallery feature which lets you add thumbnailed bookmarks for pages you regularly visit to the navigation toolbar.Hydrabrowser has a built in backup utility for saving your browser settings and integrated translation tools from Google or Babelfish.For those who hate ads,popups Hydrabrowser provides easy access to pop-up/ad-blocking settings as well as image, video, and sound blocking
Hydrabrowser takes up much screen space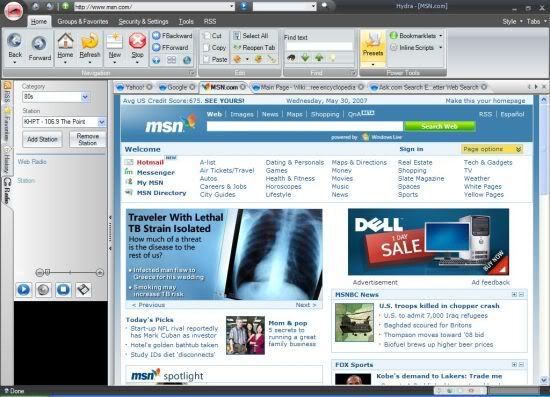 Hydrabrowser with the minimized toolbar and sidebar
Feature rich Hydrabrowser:
Tabbed browsing
In Hydrabrowser, multiple web sites can be organized into Presets and opened with a single mouse click
Hydrabrowser has a customizable Power search feature – define your own search providers and search multiple sites at once – set it and forget it! You can even record your search as a macro, much like in Office programs.
Customizable ads and popup blocker, as well as phishing filter
Clear your browsing trails – view and delete your browsing history, cookies and temporary files
Automated logins – record your logins, protect them with a master password and put them in a preset – open all of your regular login sites with just one click. You can also categorize the login sites into different presets
Support for mouse gestures
Sidebars for web 2.0 sites, and a bunch of funny gadgets to open in a sidebar and have fun while browsing the Net (and that's fun, it really is…)
Form filler – save your forms and profiles, and let Hydra fill those boring fields for you
Hydrabrowser supports tons of different bookmarklets to make your browsing experience richer – you can even automate them to achieve GreaseMonkey lookalike effect
Hydrabrowser also provides limited support for Greasemonkey scripts
Organize your favorites into categories and groups, import favorites from IE and give them new allure
Hydrabrowser let you extract links and images from web pages with a single click of a mouse, or you might extract absolutely everything from the page you're looking at and save the files on your disk separately or as mht archive!
Hydrabrowser also has an integrated RSS reader, saves your feeds into a database and lets you read your favorite news more comfortably.It also has a customizable RSS viewer – edit a simple HTML template and enjoy reading news your way
Full fledged Download manager built right into your browser
Listen to your favorite Radio station at the same time you're browsing the web, or simply pick one of the few hundred stations allready built into the software
Hydrabrowser has the office 2007 look and feel and infact it is a complete rip off.Hydrabrowser is a perfect companion to your regular browser.It is not only feature rich but it is also a charity project for children that takes money from the rich companies and gives them to children.Every download Hydrabrowser brings 0.10 US$ to charities. Also when Hydra reaches a million downloads, 100,000.00 US$ is donated, and the cycle starts again.The author also donates 50% of all profits to charities.
Free download Hydrabrowser:
Hydrabrowser needs an Windows OS (with .Net Framework 2.0 installed).If you didn't install .Net Framework 2.0 already, download .Net Framework 2.0 here
At least 512MB RAM
60 MB hard drive space
Any 32-bit processor
Free download Hydrabrowser and enjoy the Hydra experience.
If you enjoyed Hydrabrowser, also read Polstergeist Browser – to view consolidated content from multiple websites concurrently