How to install the freely downloaded Microsoft Virtual PC 2007? The following is a tutorial on installing Microsoft Virtual PC 2007
Run Microsoft Virtual PC 2007 console, click "New…" button
A "New virtual machine wizard" will open
Choose the option "Create a virtual machine"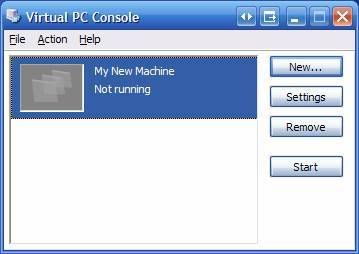 "Use default settings to create a virtual machine" creates a virtual machine with very minimal memory. The option "Add an existing virtual machine" is useful only when the VMC (virtual machine configurations) and VHD (virtual hard drive) are already available.
Virtual PC 2007 or earlier versions of virtual PC stores its data in two files, a VMC file that saves the various settings for your virtual computer, and a VHD which is your virtual hard drive.
Copy the above two files to another computer, launch virtual PC 2007 and then you can choose "Add an existing virtual machine" option, and you will open the VMC file.
Name your virtual machine.The name is used to identify the virtual PC 9virtual machine). If you don't give a path, then by default the vmc file will be placed in your My Documents\My Virtual Machines directory. "My Documents" is in your C drive, but it is always better to run your Virtual PC 2007 on a drive other than C. so you can give a name like say, "D:\VPC\My virtual PC" and click "Next"
Next you may have to select your operating system for the virtual PC. If you want to choose anything other than the windows operating systems or OS/2, choose the option "Other" and click "Next"
The next screen would ask you to adjust the size of RAM, so that it can run applications on your virtual PC. By default, Virtual PC 2007, chooses "Using the recommended RAM" option, which is a measly 128 MB. it will be better to have atleast 256 MB for your virtual PC 2007.However the optimal RAM size depends on what applications you want to run on your virtual PC. Choose the optimal RAM size and click "Next"
On the next screen, you are prompted for choosing either an existing virtual hard disk or create a new virtual hard disk. If you had chosen to add an existing virtual machine option in one of the prior steps, you may choose the "existing virtual hard disk" option. Else choose to create "A new virtual hard disk" and click "Next"
If you chose to create "A new virtual hard disk", enter the name for the virtual hard disk (VHD). By default, it uses the name you gave to the VMC file and adds "Hard Disk" to it. Click "Next"
finally click "Finish"
How to install operating system (vista, XP, linux etc.) on the virtual PC?
Place the OS boot/install disk on your CD/DVD drive
Highlight you virtual PC on the Virtual PC console and click "Start" button
A window pops up,and you'll see the message "Reboot and Select proper Boot device or Insert Boot Media in selected Boot device". You find this message because, by default, Virtual PC will protect you by not automatically giving access to any of the devices (hard disks or CD/DVDs) on your host system
click on the CD menu and choose the drive letter of your CD. click in the window and hit ENTER
Walk through all the steps for installing whatever operating system you've placed in your CD drive including formatting your hard disk, setting up partitions, etc.
You are done installing the OS on your virtual PC 2007. Next install an antiVirus software and a decent firewall. To the network, the virtual PC is a real computer, with it's own IP address and hence it is as vulnerable to attacks as any other computer. Hence protect your Virtual PC.
You may also want to install system updates, if any, to patch any security holes on your Virtual PC's OS, whether it be windows or linux or any other OS.
The following is a tutorial on Installing ubuntu 8.04 on Virtual PC 2007