This tutorial is on how to take screenshots with iphone/ipod touch.There may be times when you want to take a screenshot of your iphone/ipod touch.However, it is very simple to take screenshots with iPhone 2.0 firmware.
Iphone or Ipod touch screenshots:
Press the button at the top of your Apple iphone as shown in the picture below.
The iphone screen will flash quickly to indicate that a screenshot has been taken
Go to photo albums on your iphone/ipod Touch.You may click the Phots icon to navigate to Photo albums
Open "Saved Photo albums' and you will find the screenshots of your iphone/ipod touch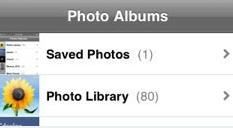 Quite often you may want to take screenshots of a particular iphone application window or games. While doing so, you may have to be very quick in pressing the buttons.You can even try pressing them simulatneously.
Enjoy taking ipod touch or iphone screenshots.