Have the iphone (3G) experience on your blackberry smartphone with bBerry theme. Blackberry is a very powerful and feature rich smart phone used by corporate executives. Blackberry is definitely a corporate phone by choice with its push email, calendar and contacts synchronization and GPS functionality. iphone is more of a consumer device and has often been adored by people for its sleek interface and looks.
If you are a blackberry user who misses the iphone's interface and looks, then here is some good news for you.You can now have the iphone experience on your Blackberry with this cool bBerry theme.This theme replaces the background wallpaper with a cool satellite image of Earth.This is very similar to what you get to see on the iphone.
bBerry theme doesn't stop with the wallpaper. It also changes the icons on your blackberry, by adding a series of buttons like you see on the iphone.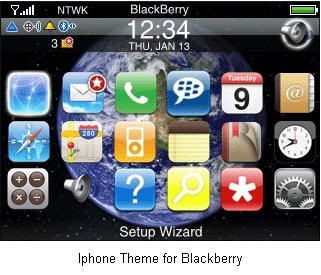 Free download bBerry theme and get the looks of an iphone on your blackberry.
As a blackberry user, you will also find it useful to manage blackberry on windows Vista or XP with the free BlackBerry Desktop Manager.
Free software for iphone
If you own an iphone, you can create iphone themes with ithemeit.
You can also check iphone theme maker to create iphone themes.
Create free iphone ringtones with iRinger or download iphone ringtones from audiko.net.You can also enjoy sharing and downloading iphone ringtones on Nakko.com