Create iphone themes easily with Iphone theme maker.It is an excellent online tool to make iphone themes on the fly.
Iphone theme maker lets you customize the wallpaper, dock and status bar of your Apple 3G iphone.You can either choose high resolution images for the wallpaper, dock and status bar from their respective galleries or you can upload your own images.You can even add icons to your iphone theme.Once you are satisfied with the theme, give it a name you like and click the Compile Theme button.You will be presented with a view of the iphone theme, a zip file containing the theme and instructions to install it.Iphone theme maker has an easy to use interface and it hardly takes a few minutes to churn out pretty themes.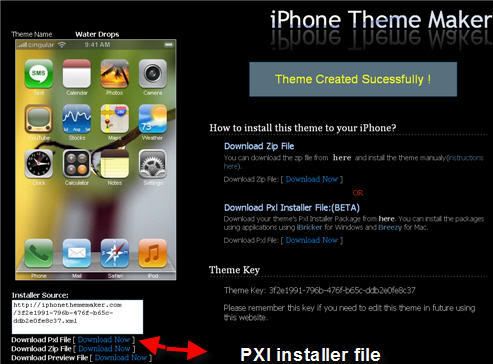 How to install custom themes on Apple iphone 3G?
Iphone themes, created with Iphone Theme maker can be manually installed using Summerboard.It is an iphone extension that adds a variety of useful and fun features to your iPhone, including scrolling icons, wallpaper and themes! You need to use the XML source file under Installer Source for adding the iphone theme.
If you have not installed Summerboard, you can do it by simply installing AppTapp aka Installer.app to your Apple iPhone and then install the free SummerBoard package. However, if you have upgraded to firmware 1.1.1, you will need to install SummerBoard manually.
Alternatively, you can download installer file for your iphone theme and install the packages using applications like iBricker for Windows and Breezy for Mac.
Create beautiful themes for your Apple Iphone 3G with the free iphone theme maker.