Minimize all your programs to tray with TrayEverything.Do you work with several applications or programs and are you tired of the clutter on your taskbar? Use TrayEverything and minimize or send all programs to tray.
You can make the programs disappear into the tray or even make them invisible to everyone except you. All this can be achieved by simply double clicking the programs.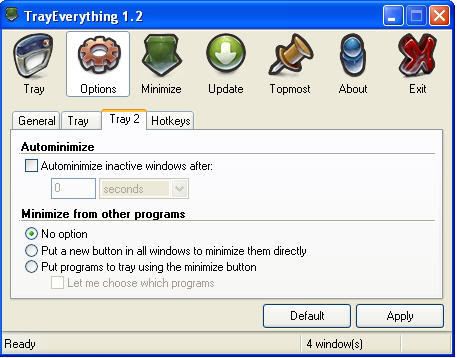 This useful program has a main window listing all currently opened programs and their associated windows.From this main window, you can minimize to tray, every window. You can even hide any window by choosing a password.You can also choose not to show any icon in the system tray. This is very useful to hide your stuff from those inquisitive peers or team leads.
TrayEverything is available in English or Italian or Japanese or Portuguese languages and is created using winapis. It works on windows vista and XP.Free download TrayEverything and minimize your applications to tray.