Create picture cards with photo card maker. This is a free software and you can personalize every photo captured with your digital camera, using this custom photo card creation tool.
Photo Card Maker is an user friendly software to create picture card in less than a minute. It has a range of professional templates for you to create personalized greeting cards, holiday cards and more by adding your own pictures and text.
Picture card templates:
Photo Card Maker has 32 built-in templates. However, you can download more templates from here and here.The templates range from "cartoons" to "Travel", and you may choose the template appropriate for your occasion.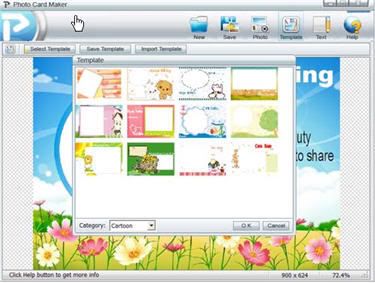 Once you add the picture to fit within the frame, you can either zoom in or out, rotate and flip the image or mirror it, thereby giving it a unique and different feel from the original picture.There are also editable text boxes, to add your messages and personalize the photo cards.The picture card can then be saved in either BMP, JPG or PNG image formats.
Download Photo card maker.