In Windows 7, Vista, XP, 2003, 2000 or 98, any program (process) can be set to temporarily run with a higher or lower CPU priority.When a higher priority is set for a process, windows will make available more resources for it.
Why is the option to set priority, for processes, in windows task manager useful?
The option to set priority in task manager of windows Vista, XP, 2003, 2000 or 9x is very useful to tell the windows operating system, which program or process should receive more or less CPU priority.for example, this will help you to speed up a heavy resource demanding program, temporarily, to help it finish faster.
How to make a Process run with a Higher or Lower CPU Priority in windows?
1. Right click on the Task bar on your windows desktop
2. Choose Task Manager
3. Select the Processes tab.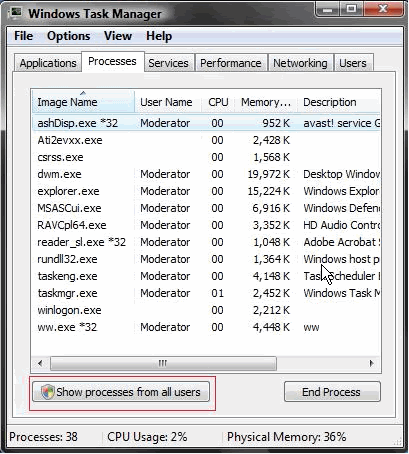 4. Click "Show processes from all users" button at the bottom. Note that this option may not be present in earlier versions of windows like Windows XP, windows 2000, etc. and by default, they display all processes. Hence skip to step 6 below in windows XP or 2000.
5. Click the Continue button for UAC prompt
6. Right click the process whose priority level you want to change
7. Choose "Set Priority" –> desired priority level (it can be Real time, High, Above Normal, Normal, Below Normal or Low) for the process.Note that Real time is the highest priority, and Low is the lowest priority.
8. Click Change Priority button on confirmation pop-up.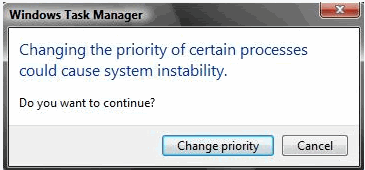 9. Close the Windows Task Manager.
Now this process will run with the CPU priority you set in step 7, until the process is closed or you log off or shutdown windows (windows XP, Windows 2000, Windows 2003 or windows Vista)
Limitations of priority setting option in windows task manager:
However note that the CPU priority setting you make for a process will only last as long as the process is open. If you close the application (process) or restart the computer, then the CPU priority will return to normal for that process automatically.The priority setting will also not work on processes that are services or on some programs that have services, for example, antivirus programs.
You can also set processor affinity in windows vista for your applications or processes, to optimize CPU utilization.
Was this tutorial useful?