Share PC screen and conduct online meetings with the free web conferencing tool Mikogo.This is a free online desktop screen sharing tool that lets you conduct online meetings, presentations, web conferences and product demos.
Earlier we covered Dimdim 4.0, an open source web based collaboration software, that lets you share your desktop, show slides, collaborate, chat, talk and broadcast via webcam with no software downloads. Dimdim had a complete suite of web conferencing tools, including free teleconferencing, private meetings, Mac Desktop Sharing and more.
On the other hand, mikogo is a relatively simple, but very effective, screen sharing tool and this would be of great help, when you want to make a product demo or presentation from a remote location or to provide remote PC assistance or simply share the desktop.This free online meeting or web conferencing solution can be used to share screen with a maximum of ten participants and fifteen minutes per session.
update: Mikogo meetings have no time limit. Users can host meetings for as long as they wish. When a meeting is started, the user will see the Mikogo Meeting Info window with the meeting ID. At the bottom of the window there is a 15min time limit for the first participant to join. As long as there is at least one participant joined to the meeting, the meeting will last as long as the users like. Participants can then join without any installations, simply by clicking on "join meeting" on the mikogo homepage.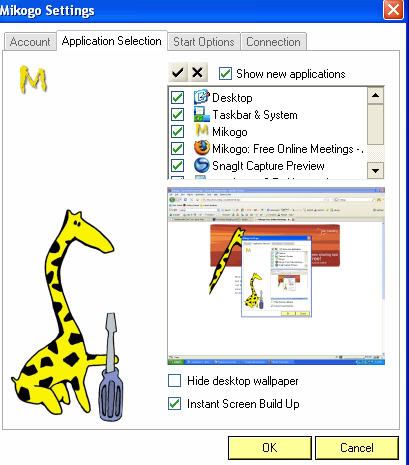 How to share screen or conduct online meetings with Mikogo?
Mikogo is a hassle-free easy-to-use screen sharing application that allows users to organize and join free online meetings from any PC over the Internet and share each others' screens.It is easy to set up and use Mikogo.
Register a free account at www.mikogo.com and verify the confirmation. Then download Mikogo. If you are a firefox user, you can download and install the Mikogo firefox extension, alternatively. Mikogo is further available as a skype add-on, that lets you carry out web conferencing.
Once installed, Mikogo automatically appears in your system tray
click on the Mikogo icon and if you are a registered user, you can set up username and password through the Accounts tab under settings.you can even manually setup the proxy settings, in case mikogo does not automatically detect it.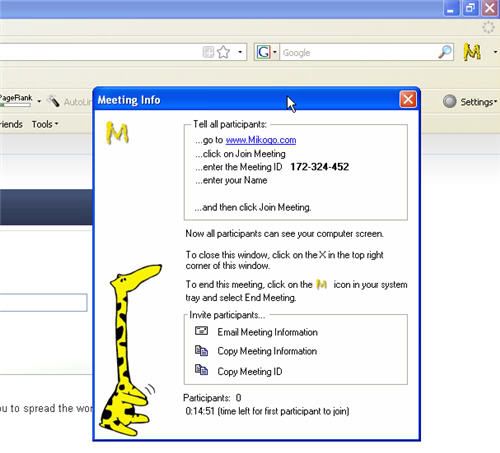 Notify the participants of the Meeting ID number.However, they need to install Mikogo as well registration is not required).once installed they can join the meeting by entering the meeting ID.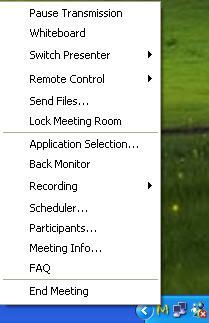 You can even select remote Control, and click on the name of the participant to whom you want to give remote control to your PC. As a participant, if you would like to gain remote control of your host's computer, you must first switch presenter, and request remote control of your guests screen. Naturally, your guest needs to confirm, before you can see their screen and gain remote keyboard and mouse control.
That is all folks! But don't forget to end the meeting once it is done.Enjoy Mikogo for screen sharing, file transfer and PC remote access.