Send free SMS or text messages, voicemails, emails or Instant messages (IM) to any individual or group with the free web based service Notifu dot com. Facilitating instant Communication or notification via SMS or text messaging, voicemails (using an internal text to speech engine), emails or IMs seem to be core service provided by this startup.
Notifu lets you quickly send a message to a colleague or friend or even a group of people, not just to one address but several alternate addresses.This includes free SMS or text messages and voicemails via phones, emails via any know email address and instant messages via GTalk, Yahoo! messenger, MSN IM, AIM or ICQ.Thereby the service ensures instant notification of the intended recipient(s) wherever they are (office or home or on the move).You can not only send the message but you get notified of the responses as well.Isn't that cool?
Features of Notifu:
Quickly deliver a text message to an individual or group via SMS (text messaging), email, voicemail (a voice message over phone) or instant messengers including Gtalk, Yahoo! messenger, MSN messenger, AIM or ICQ
Track the responses i.e. you can Know the recipients, who have acknowledged receiving the message, and those who have not.
For example, you have a meeting scheduled for the day from 6:00pm to 7:00pm but due to unforeseen cicumstances, it has to be postponed, then this web based text messaging service will help you in quickly communicating the message to all the stakeholders.You can even know who received the message and who did not.Great, isn't it?
Notifu is designed for use as a web application either from an iphone or a blackberry or any mobile phone or even the PC/computer system.Thus you can not only notify people, wherever they are, but you can send the notification from wherever you are. Wow.
Notifu requires you to register with their service but they have also provided the option to try the service without registering.Well any web services these day require you to register, just for the purpose of knowing the statistics i.e. the kind of interest and buzz they could generate.But the startup had the good business acumen to let people try the service even without registering.
How to send instant free SMS (text messaging) or emails or voicemails?
Notifu has a very friendly ajaxified interface and users can learn using it as quickly as they can send messages.Get started by clicking "Send New Message".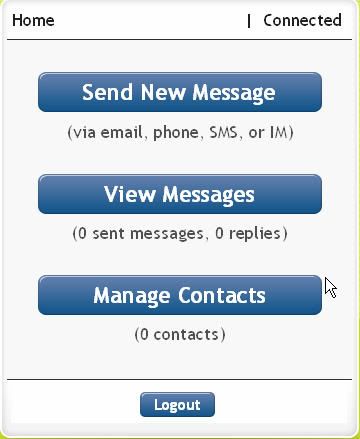 Type in your name and the message to send and if you want to collect predefined alternative responses, you can do that as well.Then click on the arrow beside the names against "To:" and fill the recipient details.
You can specify either a single delivery address for every user or several alternate delivery addresses by choosing escalating addresses.You can even send the message to a distribution list (DL).However I have not tested the DL feature.I feel that there are a few bugs to be sorted out.
That is all folks. Notifu is currently an 100% free service, including sending SMS or text message and voice messages to anywhere in the world. However, this may change soon and there will be a free Edition and pro Edition and some features will require the Pro Edition (like sending SMS messages, sending voice messages, etc). I did try sending voice message to phones in India, but I got a message stating "Banned Destination" 🙁 however it is definitely a cool service to send free SMS or text messages right now 🙂
I did send an SMS to my phone and I received it instantaneously and the sender phone number was +919901265555 . What are you waiting for? Get registered at Notifu.com and enjoy the free service to send instant SMS or text messaging, voicemails and emails. Get connected everywhere from anywhere.