Set processor affinity in windows vista, to control what processor(s) an application (process) runs on.This tutorial is on how to set or change the processor affinity for an application (process) in windows vista?
Processor affinity in windows vista:
In windows vista, applications (processes) run, by default, on all available CPUs (processors).If you have multiple processors or a dual or multi-core processor, then you can set process affinity to control what processor(s) an application or program (process) runs on.Similar to running applications or programs (processes) with a CPU Priority, you can set processor affinity to have an application or program to use only one CPU, while you can set another application to run on another CPU, thereby achieving optimal CPU uitilization. Though you cannot set CPU priority to programs running as services, you can set processor affinity to such applications or programs like anti-virus scans or anti-spyware scans.Thus you can achieve good performance on programs or applications (like Firefox, Internet Explorer etc.), that you currently work on, by assigning processor affinities that are different from those for the anti-virus or anti-spyware scans.
You can also run certain older applications that are not aware of multi-core processors, by setting process affinity
How to set processor affinity for applications in windows vista?
Open windows Task Manager. Right click on the Taskbar of your windows vista desktop and select Task Manager or press Ctrl+Shift+Esc to open Windows Task Manager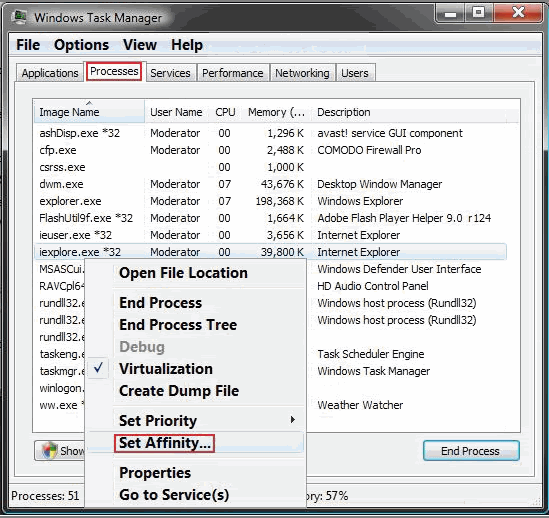 Click on the Processes tab
Click on the Show processes from all users button, at the bottom
Click the Continue button for UAC prompt
Right click the process (application) whose processor affinity you want to change
Click Set Affinity
Check the CPU(s) that you want the process (application) to run on and click OK

Limitations on assigning processor affinities in windows vista:
It is however recommmended to not change the process affinity for Vista system file processes, to avoid potential problems. You can instead change the process affinity, only for application processes, to be safe.
The processor affinity setting you make for an application will only last as long as the application is open. If you close the application or restart the computer, then the processor affinity will return to the default i.e. automatically using all CPUs, for that application.
If the installed application supports Symmetric Multiprocessing (SMP) or HyperThreading (HT), then Vista will automatically adjust the appliction's usage of each processor for best performance. You will not gain much, by manually changing the processor affinity for those applications.
Set processor affinity for your apllications or processes and optimize CPU utilization.