Improve boot speed and overcome slow windows XP startup or windows vista boot up with XenCare Startup Blaster.This is a free tool to startup XP and vista faster.
PC/computer systems running windows XP/vista get slower over a period of time and windows startup become extremely slow due to installation and usage of several new programs.All those programs may be essential for you, but they definitely they increase windows startup time as the startup program list keeps growing.But are all of those application so critical to get started at windows startup? The answer would be No in the case of most of the programs.
Windows application developers quite often code their programs to get started during boot time, just to make the user aware of the existence of their applications . But from a user perspective, this is not a friendly approach and results in a bloated windows startup list. Operating systems like Windows XP and vista do not have the notion of delayed processing of startup programs. Therefore when user reboots and logs on, all those non critical programs need to runs first, before user gets a fair share of CPU to run their own programs.This is where programs like StartupBlaster help the users. This is a lightweight Windows NT 4.0/2000/XP/2003/Vista 32-bit proxy program that accelerates slow system start-up by keeping the system registry thin and giving the user control over startup programs.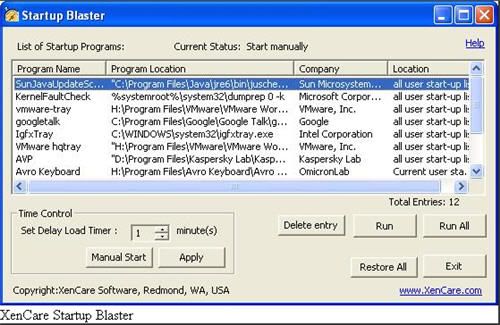 Free download StartupBlaster to speed up windows startup and get over slow windows XP startup and vista startup.