Speed up vista with Mz Vista Force. It is a suite of tools to improve windows vista performance, resulting in vista speed up.
Mz Vista Force features:
Windows tweaks
Performance tweaks
Internet optimizer
Startup manager
Service manager
Back-up and Restore
Mz Vista Force lets you tweak vista and improve its performance by providing options to turn off unwanted services, optimize CPU usage, clean up caches and manage startup programs, optimize disk access and internet connectivity, backup and restore your computer by using system restore service and backup your registry.
Mz Vista Force also has direct access to windows components, such as registration, DirectX diagnostics, diagnostics disks, system properties, and more.You can also speed up vista by unloading unused DLLs and gaining more RAM resources, disabling NTFS last access time, disabling compression on NTFS volumes, NTFS encryption, enabling encryption of NTFS paging file etc., through Mz Vista Force.
Though the program recommends periodic clean of Prefetch folder, it is better not to do it as Microsoft is against cleaning up Prefetch folder.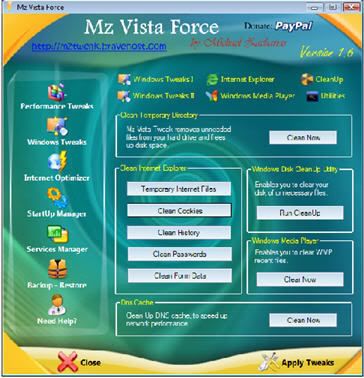 You also get better control on CPU prioritization. Mz Vista Force has an easy to use interface and an excellent startup and services manager with almost all needed options to improve vista performance and speed it up.
However Mz Vista Force is available only in English and non-English speaking users should be careful in tweaking options, as it may be difficult to understand what they mean.Also one cannot expect a dramatic improvement in vista performance, as many of the options are minor tricks to increase operationality and speed up vista.
Free download from CNET and improve vista performance.Speed up vista.