Use you webcam with multiple Instant Messenger (IM) clients with the excellent Manycam software. This is a free webcam software that lets you add cool special effects and graphics to your videos.
This webcam software lets you broadcast your Webcam video simultaneously, on several Instant Messengers (IMs) including Yahoo! Messenger, MSN Messenger, Skype, AIM, PalTalk and CamFrog. Manycam webcam software is also compatible with ICQ, YouTube and more.
How to use Manycam webcam software?
Download and install Manycam webcam software
Launch the Manycam webcam application
Choose Webcam against "Select video source" in the ManyCam tray menu. To do this, find the ManyCam icon in your right bottom system tray area and right click on it
Choose "ManyCam Virtual Webcam" as your primary input for the program that you want to use. This can be found in the settings window of most webcam compatible applications
ManyCam will automatically start when you activate your Webcam through that program. If you no longer want to use ManyCam, you can go back to the program's video settings and change your video source.
You can also add several stunning effects to the video you broadcast via the webcam.Manycam webcam software works on windows vista and XP.It is one of the most flexible webcam softwares and has the following features.
Manycam webcam software features:
Use your webcam with multiple programs simultaneously
Add text to your webcam video window with any application
Add cool animations to your video window
Show your local day and date in your video window
Add live CGI graphics like fire and water effects. You can even make it appear as if it is snowing inside your house!
Zoom your video
Rotate your video source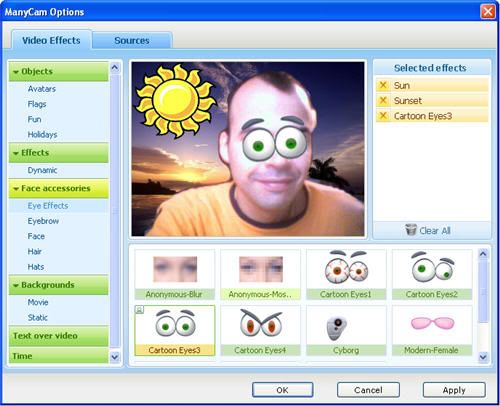 Get creative with your webcam using the free Manycam webcam software. Enjoy.